Dog Sympathy Memorial & Gifts
ALWAYS REMEMBERED...FOREVER LOVED
Gifts & Memorials for a Healing Heart
"DOGS ARE NOT OUR WHOLE LIFE, BUT THEY MAKE OUR LIVES WHOLE."
--roger caras
DOGS COME INTO
OUR LIVES TO
TEACH US ABOUT
LOVE, THEY DEPART
TO TEACH US
ABOUT LOSS. A
NEW DOG NEVER
REPLACES AN OLD
DOG; IT MERELY
EXPANDS THE
HEART. IF YOU
HAVE LOVED MANY
DOGS, YOUR HEART
IS VERY BIG.
Custom
Photo Memorial
upload your photo
$16.60 at Zazzle
For a beautiful 5.25 x 5.25
display without a frame,
this is a unique display
plaque! Printed with a
dye-sublimation process,
your image colors are put
directly on the hardboard
panel for a stunningly crisp
image. Protected with a
UV resistant gloss.
Easel back.
REMEMBERING
YOU IS EASY,
I DO IT
EVERYDAY.
MISSING YOU
IS A HEARTACHE
THAT NEVER
GOES AWAY...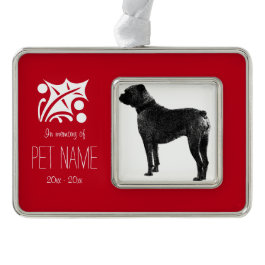 Custom Pet Photo
Memorial Christmas
Dimensions: 2.8 x 2 inches,
the photo is permanently
sealed in a UV resistant,
waterproof covering,
silver colored metal
$27.85 at Zazzle
THINKING OF YOUR BELOVED PET WILL HURT FOR A WHILE...BUT THE MEMORIES OF THE LOVE YOU SHARED WILL ONE DAY REPLACE THE TEARS WITH A SMILE...
REMEMBRANCE
PAW PRINT
BRACELET
purchases help
animals in need
Stainless steel
Adjustable Bracelet
Inside Inscribed
"If tears could build
a stairway, I would
walk right up to Heaven
and bring you back again."
$29.95
IF LOVED COULD OF SAVED YOU, YOU WOULD HAVE LIVED FOREVER...
"GOODBYES ARE NOT FOREVER. GOODBYES ARE NOT THE END. THEY SIMPLY MEAN I'LL MISS YOU UNTIL WE MEET AGAIN!"
-author unkown
"DON'T CRY BECAUSE IT'S OVER, SMILE BECAUSE IT HAPPENED."
- Dr. Seuss