Pet Memorial Card
Black Modern Photo Remembrance
Medium Pet Memorial Cards
Large Pet Memorial Cards
Small Pet Memorial Cards
Poem & Prayer Selections Offered
Prayer for Pets
Heavenly Father, Creator of all things, thank you for having entrusted us with such a loyal friend. Thank you for letting this beautiful animal teach us unselfish love. Thank you for the memories we can recall to brighten our days for the rest of our lives. Finally, in gratitude, we return our cherished companion to you. Amen.
In Our Hearts Poem
We thought of you today, but that is nothing new. We thought about you yesterday, and days before that too. We think of you in silence, we often speak your name. Now all we have are memories, and your picture in a frame. Your memory is our keepsake, with which we'll never part, for God has you in His keeping, and we have you in our heart.
God's Garden Poem
God looked around his garden, and found an empty place, He then looked down upon the earth, and saw your tired face. He put his arms around you, and lifted you to rest, God's garden must be beautiful, He always takes the best. It broke our hearts to lose you, but you didn't go alone, for part of us went with you, the day God called you home.
Contented Poem
Now I am contented that my life it was worthwhile, knowing as I passed along the way I made somebody smile. When you are walking down the street and you've got me on your mind, I'm walking in your footsteps only half a step behind. So please don't be unhappy, just because I'm out of sight, remember that I'm with you, every morning, noon and night.
Do Not Grieve for Me Poem
Do not grieve for me for now I'm free, I'm following the path God set for me. I ran to Him when I heard His call, I wagged my tail and left it all. I could not stay another day, to bark, to love, to romp or play. My life's been full, you've given so much, your time, your love and gentle touch. Perhaps my time seemed all to brief, don't lengthen it now with undue grief. Lift up your heart and share with me, God wanted me now, He set me free.
Do Not Mourn My Passing Poem
Do not mourn my passing for if you could only see by slipping all my earthly bonds, I'm young again and free. By day I run the Heavenly fields, my body healthy and strong, at night I sleep at Angels' Feet, lulled by Celestial Song. So do not mourn my passing, just close your eyes - you'll see I'm once again that frisky pup, just as you remember me.
God Saw You Getting Tired
God saw you getting tired and a cure was not to be, so He put His arms around you and whispered, "Come with Me." With tearful eyes we watched you slowly fade away, although we loved you dearly, we could not make you stay. A golden heart stopped beating, playful paws were put to rest, God broke our hearts to prove to us, He only takes the best.
Rainbow Bridge
available on 5 x 7 cards only
When an animal dies that has been especially close to someone here, that pet goes to Rainbow Bridge. There are meadows and hills for all of our special friends so they can run and play together. There is plenty of food, water and sunshine, and our friends are warm and comfortable. All the animals who had been ill and old are restored to health and vigor; those who were hurt or maimed are made whole and strong again, just as we remember them in our dreams of days and times gone by. The animals are happy and content, except for one small thing; they each miss someone very special to them, who had to be left behind. They all run and play together, but the day comes when one suddenly stops and looks into the distance. Her bright eyes are intent; Her eager body quivers. Suddenly she begins to run from the group, flying over the green grass, her legs carrying her faster and faster. You have been spotted, and when you and your special friend finally meet, you cling together in joyous reunion, never to be parted again. The happy kisses rain upon your face; your hands again caress the beloved head, and you look once more into the trusting eyes of your pet, so long gone from your life but never absent from your heart. Then you cross Rainbow Bridge together...
They promise 100% satisfaction.
If you don't absolutely love it, they'll take it back!
30-Day Money Back Guarantee
Your information is secure while shopping on Zazzle.
SSL secured servers are tested daily.
Comment on Black Pet Memorial Cards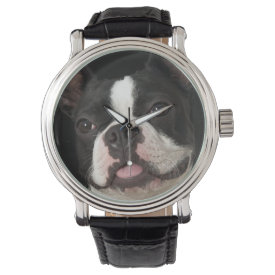 Beautiful
BOSTON TERRIER
WRIST WATCH
$47.45
at Zazzle
Features a
three-hand
quartz movement
& genuine
leather strap
Greeting Card Universe
cards are $3.50 below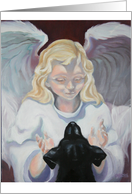 PAWPRINTS ON
OUR HEARTS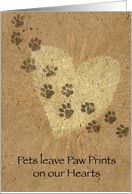 RAINBOW BRIDGE
SYMPATHY CARD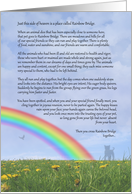 IN LOVING
MEMORY
Personalize the
front message
with the
pet's name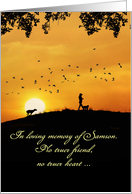 DOGS COME INTO
OUR LIVES TO
TEACH US ABOUT
LOVE, THEY DEPART
TO TEACH US
ABOUT LOSS. A
NEW DOG NEVER
REPLACES AN OLD
DOG; IT MERELY
EXPANDS THE
HEART. IF YOU
HAVE LOVED MANY
DOGS, YOUR HEART
IS VERY BIG.
Custom
Photo Memorial
upload your photo
$16.60 at Zazzle
For a beautiful 5.25 x 5.25
display without a frame,
this is a unique display
plaque! Printed with a
dye-sublimation process,
your image colors are put
directly on the hardboard
panel for a stunningly crisp
image. Protected with a
UV resistant gloss.
Easel back.